Small businesses can create online stores using the well-known e-commerce platform Shopify in order to sell goods on their websites or through social media. This article will help you get a foot in the door of Shopify kingdom by answering the questions "What is a Shopify store and How to create a store with it?" The business additionally offers point-of-sale, or POS, software that small companies can utilize in their physical stores.
What is a Shopify Store Add-on?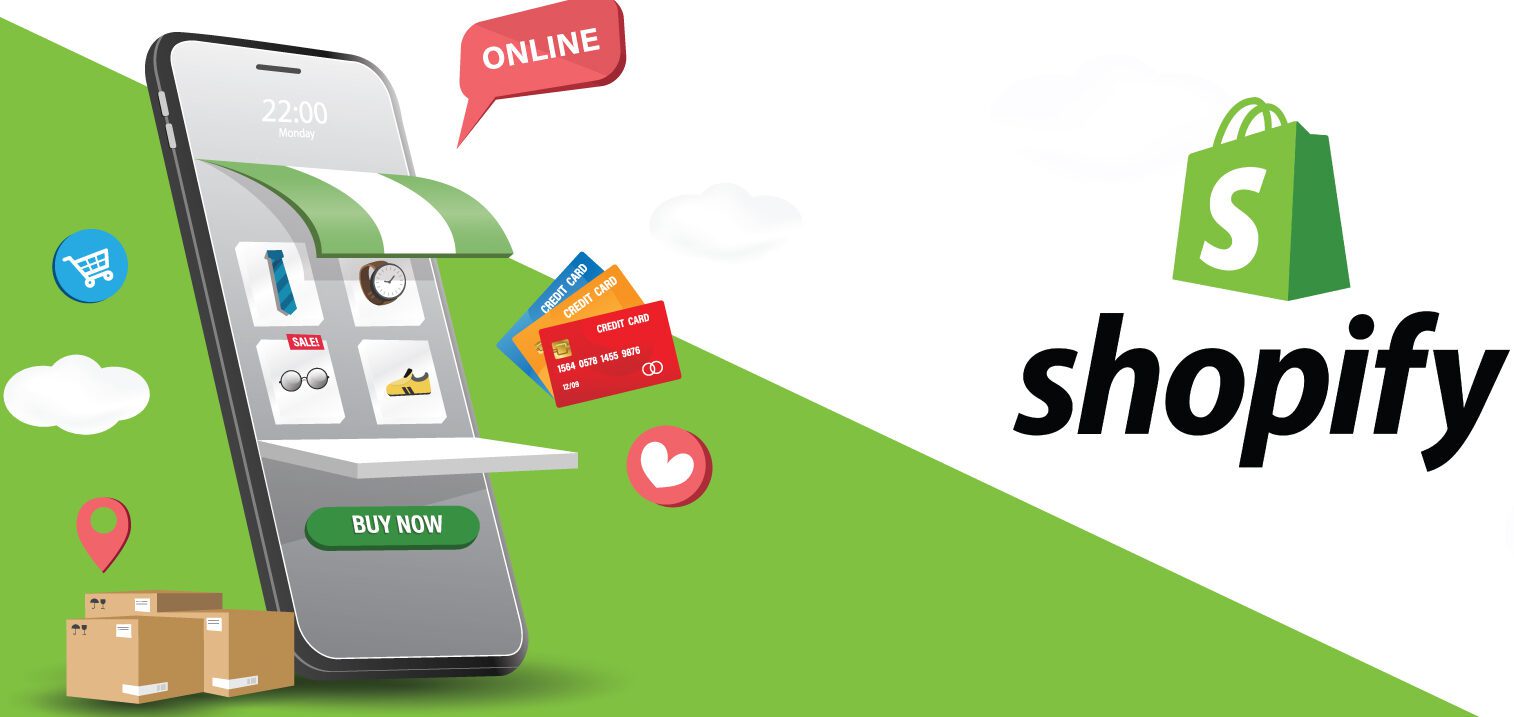 With the help of Shopify's add-ons, you can accomplish more. Shopify Payments, which is used to accept credit cards, and Shopify Shipping. They create shipping labels and offer shipping discounts, and Shopify Markets, which enables businesses to sell internationally, are notable add-ons. These add-ons might result in extra costs. 
What is a Shopify Store App?
Thousands of third-party developers' apps and features are available in Shopify's App Store to customize your store without ever touching the code. There is an app to help you realize anything you can imagine. Whether it's the newest SMS app or the hottest new social media network's ad tools, you can find the most innovative tools to help you grow your business in the App Store. Somehow you wonder how to see what apps a Shopify store is using. 
You can access a wide variety of marketing tools through the app store. For example, social media integration, product reviews, and email marketing. They support advising and carrying out marketing initiatives in accordance with your products, audience, and store performance.
What is a Shopify Store's Advantage? 
Quick And Simple To Set Up And Use
Shopify provides a simple method for quickly launching an online store without the hassle of servers and the associated costs that come with self-hosted platforms like Magento. Since all the features are logically structured, the admin interface is clear, user-friendly, and fairly intuitive. Besides, what is a good Shopify store speed depends on your preference. 
Safe & Dependable
The reliability that a hosted solution offers is one of its main benefits. Your store and shopping cart will always be accessible thanks to Shopify, who will also take care of all continuous integration and maintenance.
Responsive 
Because Shopify includes a providing material mobile commerce shopping cart and all of its themes are mobile responsive, your store will look excellent on all gadgets and your customers will be able to freely shop wherever they are.
Customizable
There are over 20 Best Free Shopify Themes that are mobile-responsive, the most effective and minimal one that we recommend is Storepify. By editing the code, each theme can be completely customized. Somehow, you will wonder how to see what theme a Shopify store is using when you have an impression of its appearance. So it's easy to create a lovely and distinctive online store that fits with your brand identity!
A Vast Collection Of Applications
You can add a wealth of features to your shop by using the apps available in the Shopify app store. You can add reviews, loyalty programs, and customer wishlists, get detailed analytics, print labels and packing slips, and integrate with accounting software, shipping programs, social media sites, and more with over 1,500 options available, not to mention all the marketing apps. Read this article on how to find out what apps a Shopify store is using 
Tools For SEO & Marketing
Shopify's strong Search Engine Optimization (SEO) features, which will help your website rank higher in search results so customers can find you, are another of its key selling points. Additionally, you can use sophisticated analytics to determine where your customers are coming from. Therefore, you can adjust your marketing strategy accordingly.
Recovery Of A Forgotten Cart
A simple way to potentially increase revenue is to use Shopify's abandoned checkout cart recovery service, which automatically tracks and emails these potential customers to remind them to finish their purchases.
Own payment gateway Shopify offers its own payment gateway, by which Stripe powers, in addition to integrating with dozens of others.
In relation to this topic, maybe you need a detailed comparison between Shopify vs WordPress.
What is a Shopify Store's Operation?
A small business can quickly launch an online storefront with Shopify's assistance. Here is a description of Shopify's operation:
Create your shop. With more than 70 store themes to choose from and drag-and-drop functionality, Shopify makes things simple. The fonts, graphics, and colors are all customizable. The website you create also functions flawlessly on mobile devices. A limitless number of products may be listed. Besides, you want to find out what theme a Shopify store is using because of being impressed by the appearance of a store. Consider thoroughly because not every theme is suitable for you. 
Create a payment plan. Shopify Payments, a separate service that enables you to accept payments, lets you accept credit cards from customers.
Include a Buy button. A product card can be embedded and purchased on a website or social media platform.
Sell via a variety of channels. You're not limited to selling your goods through your personal website. Products can be listed on Google, eBay, Walmart, TikTok, Pinterest, Facebook, Instagram, and other websites using Shopify.
If you have a brick-and-mortar business, set up the POS side.
Monitor your company. On desktop and mobile, reports, analytics, and other data appearance on Shopify's dashboard. The Shopify Mobile app allows you to manage a variety of tasks, including adding product photos, establishing prices, handling refunds, viewing sales and visitor traffic, receiving order notifications, and corresponding with your staff. Chinese, Czech, Danish, Dutch, English, Finnish, French, Vietnam, German, Italian, Japanese, Korean, Norwegian, Polish, Portuguese, Spanish, Swedish, Thai, Turkish, and other languages are all supported by the Shopify dashboard.
If your budget is limited, you can try free Shopify themes.
What is a Shopify store's building direction?
Step 1: Register With Shopify
It's also the simplest to set up your Shopify store in its initial stages. All you have to do to begin using Shopify is create an account.
Go to Shopify's website and select the start-off link. Enter the store name, password, and email address of your choice.
Keep in mind that you must select a distinctive name for your store if you want Shopify to let you buy the domain.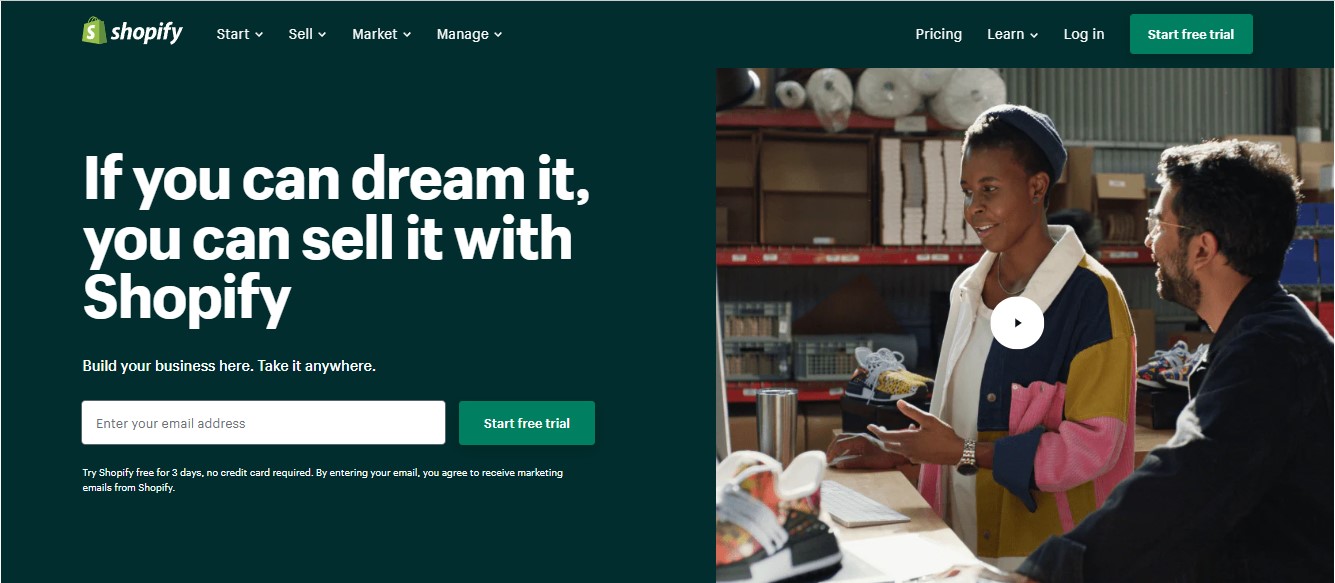 After clicking Next, describe yourself to Shopify by mentioning your sales goals and whether you're already selling. When finished, click the Enter My Store button.
The next question is whether you want to create an offline store or an online store. Select that option, then click Next, as we will only be creating an online store for the purposes of this tutorial.
You are prompted to enter personal data on the following page, including your name, address, and phone number, which are all used to set up currencies and tax rates.
Step 2: Integrate A Product Into Your Shopify Store
The software will take you directly to the admin screen for your new website once you have signed up for Shopify correctly. You can begin personalizing your store and adding products for your customers to browse through here.
It outlines a nice step-by-step procedure on how to fully set up your shop when you go to your Shopify backend. It is best to start by clicking on the first button because it asks you to add a product.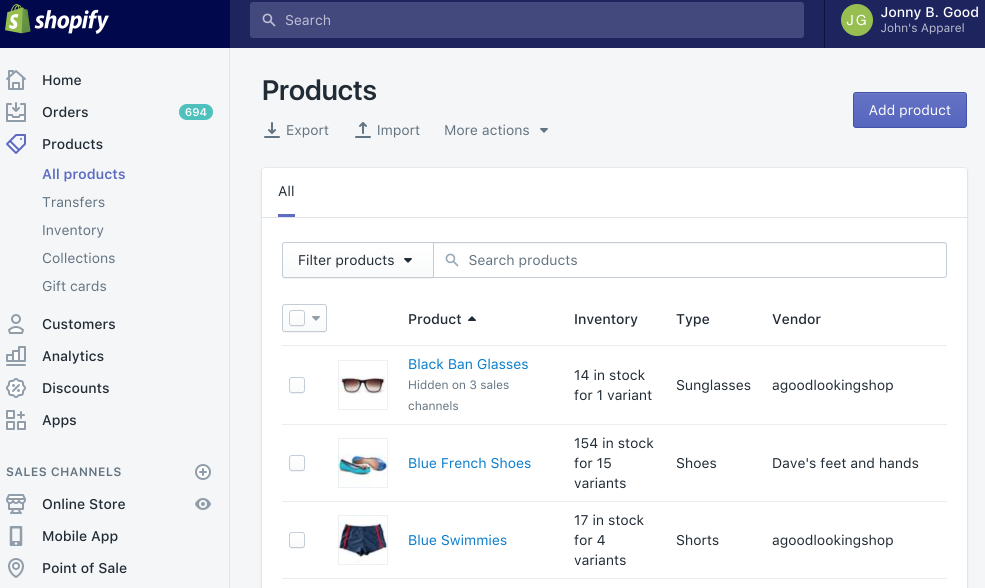 The Add product page resembles a page you might find on WordPress. Details like a title, description, price, and vendor can be filled in. You are free to fill out as little or as much of the product page as you like. Just be sure to save the finished product.
Remember that your chances of completing a sale can be made or broken by the images associated with your product, so it makes sense to select pictures that will appeal to your intended audience. Avoid the errors of undervaluing the value of your website's visuals.
You can also organize collections or groups of products in accordance with your specific needs, which is another thing to keep in mind. As an illustration, if you run a clothing website, you could create a page just for men's clothing or shoes and accessories.
Making it simpler than ever for your customers to find the items they require is now possible with Shopify thanks to the ability to arrange for the same products to appear in a variety of different collections. You can choose how products should be added to collections when you do decide to add them to your store. For instance, you could set up your store to automatically add products that fit a certain criterion.
Your store design plays an important role in increasing the customer engagement. It is always better if you have interesting ideas for your store design. Christmas ideas for Shopify stores are an excellent example for you.
Step 3: Modify Your Shopify Website's Appearance
Return to the main dashboard and click the Customize Your Site's Look button. You must customize everything in this area, including the colors and logos. It takes some fiddling, but the main thing you should pay attention to is the link that directs you to the theme store.
What is a Shopify store's theme source? Here, you can browse Shopify's many hundreds of themes to enhance the appearance of your website.
Even though free themes are excellent, premium themes can be very attractive.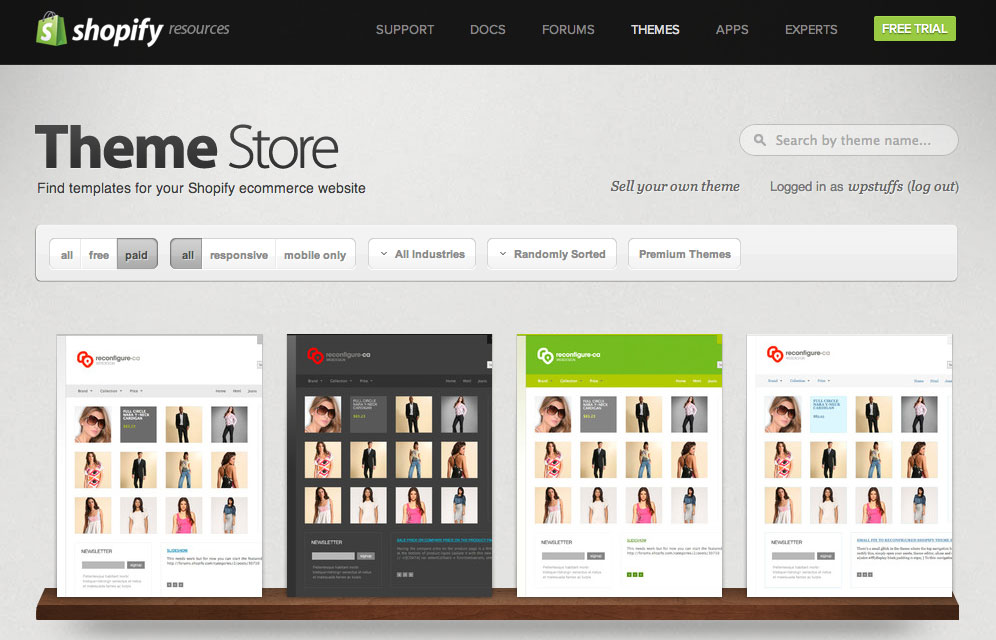 It may be wise to spend a little more money on a professional theme if you want to make additional customizations to the tiniest aspects of how your website appears. Premium themes offer extra customization options. If you have access to the theme's CSS and HTML components, you'll also discover that you have a lot of flexibility in how your website functions and looks. You can always look at the Shopify Experts page for additional assistance if you don't already have a coding guru on staff.
There are many Shopify experts who specialize in email marketing, Best Shopify themes in 2023, and many other areas. For almost anything, you can use the Shopify Experts community.
You can modify the following elements of your Shopify theme:
Fonts
Color palettes
Things that show up on the page
The functionality of related items
Carousel slides on the home page
Logos.
Step 4: Connect Your Domain To Shopify Store
It's time to choose a domain so that your website can become official and go live after you've chosen your template and customized it to your liking.
Return to the dashboard and select the Add a Domain option. This prompts you to choose whether you would like to exchange or register a new domain. Select the domain you would like to buy and follow the on-screen instructions. You must also make clear what is a Shopify store's payment option you want to use.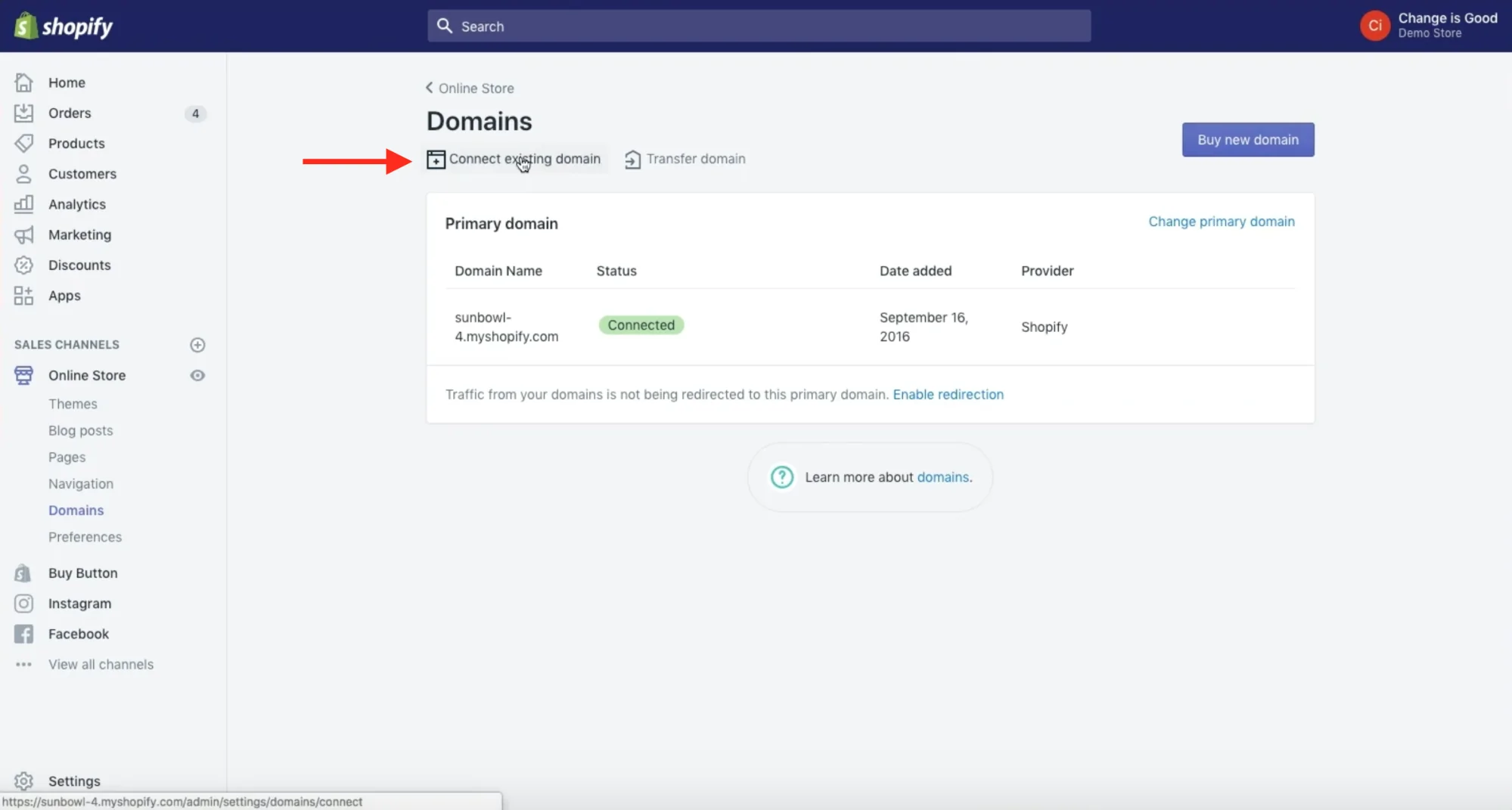 Remember, it's entirely up to you whether you buy your domain name elsewhere and add it to Shopify or buy it from Shopify and have it added directly to your store. In contrast, if you're uploading an existing name, you'll need to update your DNS records.
Once activated, your website is accessible to that specific domain.
Make sure the following details are accurate while you are in the main section of your Shopify website:
General: Keep all of your information, including your billing and legal information, filled out in the settings area.
Taxes: To assist with your accounting, make sure the box next to "charge taxes" in the Variants section of your website is selected.
Shipping: To determine which products require an additional fee to cover postage and packaging, you must select the "requires shipping" checkbox next to them. Always choose a weight-based shipping specification or something that will enable you to sell the most products.
By going to the Shopify Admin section, clicking on Settings, and then selecting your Payments settings, you can test your order system before you start selling online. Before moving on, deactivate it in the Payments section, then pick a test credit card gateway. Click "Bogus Gateway" to test it out, and then proceed to place an order as you normally would.
Step 5: Activate Your Shopify Payment Processor Store
Select the "Payments" tab from the list of tabs on the dashboard. You can choose from dozens of payment processors in this section, including Stripe and Authorize.net. First of all, understand what is Shopify store's payment collection. Shopify has a built-in payment processor that is incredibly simple to use. Just follow the instructions to activate your payment processor. You are now able to accept payments and deposit them into an account.
One of the most crucial aspects to take into account when creating the ideal Shopify store is payment gateways. Always keep in mind that the gateway that is best for you will depend on a variety of factors, including:
The transaction fees: The majority of payment gateways will tack on a small fee each time a customer makes a purchase on your site. 
Verify that you choose the gateway offering the best price for you.
card kinds Picking a payment gateway that accepts a variety of cards and other payment methods, such as PayPal and Stripe, is crucial.
Offsite checkout: Using a form, some payment gateways transfer the payment process from your website to their own server. Although this payment gateway strategy may be a little bit more secure, it also causes some inconvenience for customers.
After everything is said and done, you can launch the website by clicking the Launch Website button.
Congratulations! You currently have a Shopify online store that works perfectly.
Conclusion:
Hopefully, you have already found out What is a Shopify store. Ensure know that Shopify is an all-in-one commerce platform, not just a piece of software or a single item. More than that, it's a rich ecosystem that benefits business owners by bringing together developers, industry professionals, and customers with the common goal of improving commerce for all.
And starting has never been simpler! Start your free trial, adhere to this checklist for launching an e-commerce website, and start selling online right away.
(This is a demo blog for Storepify blog) - ThimPress Development Team)